Open a book and you open the door to a new world. The Library of Congress welcomes children, teens and adults to the Young Readers Center, a place especially designed for young people.
Young Readers Center Story Time Every Friday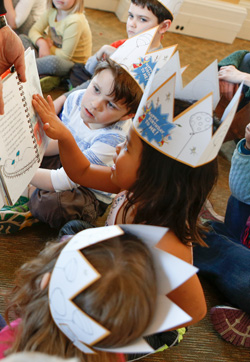 The Young Readers Center (Jefferson Building, Room G29) will continue to offer Story Time for infants and toddlers every Friday (except holidays) starting at 10:30 a.m.
NOTE: Due to an occupancy review of the Center by the Library of Congress Safety Services Office, we are required to limit the number of participating children and adults to 50. Free admission stickers will be distributed on a first-come, first- served basis beginning at 10 a.m.
Thank you for understanding and we look forward to your participation.
Please check this website or call the YRC at 202-707-1950 for any changes to this schedule.
Young Readers Center Teen Board 2017–2018
Who We Are
Four local schools are participating in this year's program: Richard Wright Public Charger School for Journalism and Media Arts, Stuart Hobson Middle School, Dunbar High School and Eastern High School.
Our Mission
Teen Board members act as ambassadors from their schools and respective communities to the Library, and also help connect the Library of their schools and larger education community. They learn first-hand about the resources and departments of the Library of Congress, and in turn advise the Library on teen related issues including social media and how to heighten the awareness of Library resources and opportunities for teens.
Programs
October 2017
Our first meeting with introductions and welcomes. New books, talks about favorite books and then on to our guest speaker: Rene Sayles from the Library of Congress Geography and Map Division. We learned that this Division contains over 5 million maps and 72,000 atlases. Students were shown pictures of some famous maps (including maps used by Christopher Columbus) and even relief maps made of a variety of substances including chocolate. We are proud to report that no nibbles were taken. Should you want to look further at the Library's map collections, start searching here.
November 2017
After some time for small group book discussions, and news of the literary activities of some of the schools, our guest speaker was Barbara Natanson from the Prints and Photography Division. Did you know that this Division contains over 15 million images? Starting with some amazing Civil War images (no photoshopping back then) we moved to architectural drawings including one image of a proposal for the Thomas Jefferson Building. Posters and cartoons are an important part of this collection. To view online images from the Library of Congress, start here.
February 2018
This month, our focus was on books, new and old. Teens discussed the ones they loved, and had fun too with those books that they really did not enjoy reading. Hunger Games and Harry Potter were two titles that sparked some strong discussions, some positive about the books and some a little negative.
Kindred: A Graphic Novel Adaptation by Damian Duffy opened up a Teen Board member to the wonderful science fiction writings of Octavia Butler. This also results in a shout out for all things graphic novel format. Teens took home some 2018 titles to read and review. Like Vanessa by Tami Charles was one of those titles. Look on our website for a review coming soon.
Excerpts from some of this year's reads:
As You Wish
by Chelsea Sedoti. Sourcebooks, 2018.
Reviewed by Charlotte, Stuart-Hobson MS.
In the small town of Madison Nevada, teens turning 18 have one wish. Some wish for popularity, money, physical enhancements and maybe love. Eldon is turning 18 soon, and has lots to consider before choosing his wish, or maybe not wishing at all.
From Charlotte: "Great book overall, really cool concept, just too long. The title and synopsis on the back cover, pulled me in, and didn't disappoint."
Meg & Linus
by Hanna Nowinshi. SwoonReads, 2017.
Reviewed by Madeline, Stuart-Hobson MS.
Best friends, Meg and Linus share their enthusiasm for being gay, loving school, good coffee and of course, their friendship. They share and interfere in the ups and downs of each others' high school romance.
From Madeleine: "If you enjoy an up to date story about love, this book is for you. It did take a long time though, for something to happen in the plot."
The Romantics
by Leah Konen. Abrams, 2016.
Reviewed by Ineisha, Richard Wright PCS.
"Love" is the narrator and unofficial manipulator in this story of romance. The statement from Love, "humans make a lot of mistakes, I don't" gives you an idea of where the story is going.
From Ineisha: "I think a lot of teens will relate to this book, and love the story. I was not disappointed with this book because unlike most romantic teen novels, this one interested me, and kept me reading."
Queens of Geek
by Jen Wilde. Swoon Reads, 2017.
Reviewed by Jacqueline, Richard Wright PCS.
Two teens on an adventure to the US from Australia. The book is told from each teen's perspective as their travels continue.
From Jacqueline: "It is refreshing to know that some authors really try to understand the teens that they are writing about. I liked this book a lot."
Royce Rolls
by Margaret Stohl. Freeform/Disney 2017.
Reviewed by Maddie, Stuart Hobson Middle School.
Bent has been a TV start since she was 12, and plays a teen who loves trouble. In this hilarious depiction of life as a star, she finds another way to look at her world through friendships.
From Maddie: "This book was interesting and brought new insight into how scripted 'reality TV' really is."
I Hate Everyone But You
by Gaby Dunn and Allison Raskin. Wednesday Books, 2017.
Reviewed by Latia, Richard Wright PCS.
Written in the form of emails, two best friends from high school share their college adventures with each other.
From Latia: "I chose the book because of the cover—the cellphone on the front really grabbed me. But I feel kind of disappointed with the book because it didn't really relate to me. The characters were college student, and I'm in high school."
Want
by Cindy Pon. Simon and Schuster, 2017.
Reviewed by Remi, Richard Wright PCS.
A dystopian novel, with two clear groups. One lives in a polluted city with plagues and other problems. The other group in a much better world/lifestyle. Two teens from these separate worlds meet up to problem solve, hoping for a better world.
From Remi: "Teens will relate to the characters, and enjoy the story which is different than many other teen books."
Kids! Join the YRC Presidential Challenge
Send us your Video and Be President for a Day
(or at least for a minute!)
Young Readers Center Hours Open to the Public
Mon — Saturday 9:00am -4:30pm
Video from the Grand Opening celebrating the Saturday schedule
Young Readers Center
Thomas Jefferson Building
Room LJ G29 (ground floor)
10 First St. S.E.
Washington, DC 20540
Hours:
Monday through Saturday
9 a.m. — 4:30 p.m.
(closed most federal holidays)
(202) 707-1950