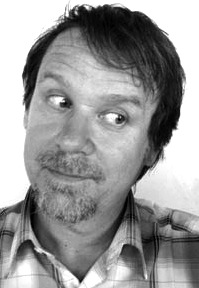 Calef Brown is an author and illustrator. His award-winning picture books include "Polkabats and Octopus Slacks," "Dutch Sneakers and Fleakeepers," "Tippintown: A Guided Tour," "Soup for Breakfast" and theNo. 1 "New York Times" best-seller "Flamingos on the Roof — Poems and Paintings."
In addition to his own titles, he has illustrated numerous other books, notably "Greece! Rome! Monsters!" by John Harris, "Gertrude Is Gertrude Is Gertrude Is Gertrude" by Jonah Winter and "The Neddiad," "The Yggessey," and "The Cat-Whiskered Girl" by Daniel Pinkwater. His work appears in numerous magazines and has been seen in "Time," "Newsweek," "The New Yorker" and many others. He also visits elementary schools in New England and across the country.
Calef lives and works in mid-coast Maine.
2010: Hallowilloween: Nefarious Silliness (Houghton Mifflin)
2010: Soup for Breakfast (Houghton Mifflin)
2011: Boy Wonders (Atheneum Books for Young Readers)
2012: Pirateria: The Wonderful Plunderful Pirate Emporium (Atheneum Books for Young Readers)