Educators and parents can use these resources to help young people unlock the power of reading.
Teaching Resources
Teachers and parents can use these Library of Congress educational resources to bring students and young readers deeper into the world of reading.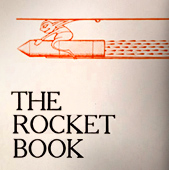 Classic Book: The Rocket Book (1912) By Peter Newel
The upward progress of a rocket, lit in the basement by the janitor's son, causes some strange situations as it passes through 20 floors of apartments! Read This Book Now
More about this book
Booklist
Letters About Literature
Letters about Literature is national contest for grades 4 through 12. Readers write a personal letter to an author, living or dead, explaining how that author's work changed the student's way of thinking.
Poetry Resources
Local and Community Reading Resources
More Resources